If you've always been fascinated by spanking, and are nervous about dipping a toe in the water, a great way of discovering the world is a Munch.
A munch is a meeting of likeminded folks over a drink or a meal. It's a contraction of Meet for lUNCH. In the BDSM and Spanking communities they are usually held in a restaurant or pub and are what is termed "vanilla" - no spanking takes place. It's a chat, and a place to meet potential new partners, get advice and gossip. It's regarded as the best introduction to the world of spanking/BDSM for the nervous newbie. People wear street clothes to these events as we don't want to frighten the horses - or ponyboys.
I used to host a weekday much once a month in Central London. Then work intervened as I got a part in a series ... few weeks ago a friend mentioned he's found somewhere where we could combine our love of socialising with our love of spanking, and Workers' Playtime was born. Here is a quick review of what is turning out to be a semi regular event.
David Scott and
Dominic Hyde
invited friends from Facebook and other spanking sites we visit to a one off event at a Fetish friendly bar near King's Cross Station in London. About thirty people attended in all, including the lovely Domme
Katie Didit
,
Peter Jones the London Spank Daddy
,
Raven
and
Nick Urzdown
. Many other friends attended, but naturally we don't blab!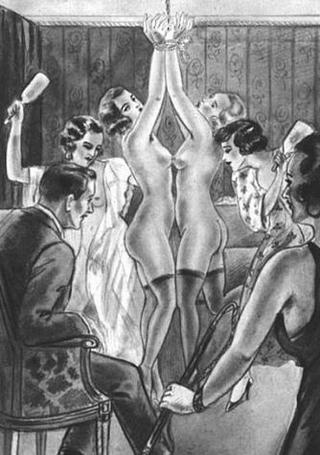 We had the whole place virtually to ourselves for the afternoon. The venue is used to people playing there, so there was no need to hide it. Upstairs there was a pleasant bar and an open roof terrace, which was a great place to spend an afternoon.
The cellar bar was a bit smelly! It did however, boast some basic equipment, such as St Andrew's Cross, a couple of spanking benches and a cage. There were even stocks in the store room! There were also alcoves where you could play in a degree of privacy. There was some lovely play happening. Between us we managed to help a nervous newbie take her first steps into playing safely and happily (thanks guys, you know who you are). I assisted the Spank Daddy in dealing with two naughty "schoolies", whilst Mistimes Katie dealt with any number of deserving bottoms. I, however, was hiding in the lovely terrace bar, enjoying a drink the Nick and Raven.
We drew stumps at six o clock as another party was about to come in. We had a great time and it was decided to host another one, for more Dungeons and Dragon Canes Play. My Hyde, webmaster, has set up this website to answer FAQ's and get information out quickly as the last munch took several hours of "customer care"
And how much did we charge for this? Nothing! Not a penny. If you've found this blog then you have proved yourself smart and kinky enough to come and join us. Play is optional, and kept separate from the chat area.
Just click on the link below for details